Yes...I am definitely a slow reader at the moment. Omg!!! I can't believe that I only read one book last week. Okay, it was a really great one..but come on!! ONE! Can you believe it?
Thanks for this meme: It's Monday! What are you reading? I will show you the book I read last week =)
So last week I finished
White trash zombie apocalypse by Diana Rowland
. She is such an awesome writer. Love this serie sooo much =)
Our favorite white trash zombie, Angel Crawford, has enough problems of her own, what with dealing with her alcoholic, deadbeat dad, issues with her not-quite boyfriend, the zombie mafia, industrial espionage and evil corporations. Oh, and it's raining, and won't let up.
But things get even crazier when a zombie movie starts filming in town, and Angel begins to suspect that it's not just the plot of the movie that's rotten. Soon she's fighting her way through mud, blood, bullets and intrigue, even as zombies, both real and fake, prowl the streets.
Angel's been through more than her share of crap, but this time she's in way over her head. She'll need plenty of brainpower to fit all the pieces—and body parts—together in order to save herself, her town, and quite possibly the human race.
And at this moment I am reading the last book in this awesome serie. It's sad to say goodbye to my new bookfriends. Love these characters.
How the white tresh zombie got her groove back by Diana Rowland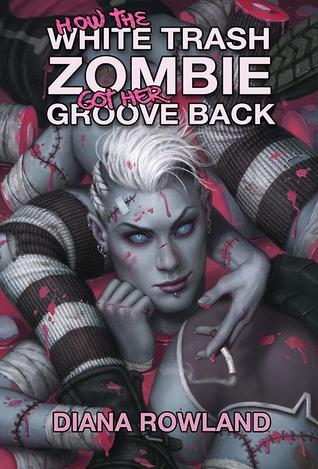 READERS HUNGER FOR ANGEL CRAWFORD...
It's zombie versus zombie as the Saberton Corporation declares war against the Zombie Mafia, kidnapping several of their party. It falls to Angel to lead the remnants of her gang halfway across the country to claw their way through corporate intrigue, zombie drugs, and undead trafficking to rescue her friends—and expose the traitor responsible for their abduction...
And I hope that this week my new books will arrive. So I can start with those. Hope it is a really awesome serie.
Blood rights by Kristen Painter
The lacy gold mapped her entire body. A finely wrought filigree of stars, vines, flowers, butterflies, ancient symbols and words ran from her feet, up her legs, over her narrow waist, spanned her chest and finished down her arms to the tips of her fingers.
Born into a life of secrets and service, Chrysabelle's body bears the telltale marks of a comarré—a special race of humans bred to feed vampire nobility. When her patron is murdered, she becomes the prime suspect, which sends her running into the mortal world...and into the arms of Malkolm, an outcast vampire cursed to kill every being from whom he drinks.
Now, Chrysabelle and Malkolm must work together to stop a plot to merge the mortal and supernatural worlds. If they fail, a chaos unlike anything anyone has ever seen will threaten to reign.
Hope you all got some really great books to read this week.
Have a nice monday =)